French cinema was not what it is without the Gentlewoman that is Catherine Deneuve. Celebrity star, style icon, beautiful and fascinating. Chanel Face No. 5. Her life is full of various passions. If it weren't for acting she would have become a marcher of artwork. Despite suffering a stroke, she returned to the film set. Vital energy is her trademark. An internationally admired actress and fulfilled grandmother.
Table of Contents:
Classic splendor and refined elegance
"I am not aware of my age … Let's just say I'm trying to age as gracefully as possible. At the threshold of my 70s, I feel as brave as when I was 20." – Catherine Deneuve said In an interview with Paris-Match. That was nine years ago, but you don't see that from the diva of French cinema. The timeless star of French and world cinema continues to captivate us with her beauty and personality. One of the most beautiful women known for her mythical roles, she is the epitome of classical splendor and refined elegance. An icon, Gentlewoman who inspires and fascinates at the same time. She marked French cinema with her aura. Her credits include more than a hundred films with some of the greatest directors: Jacques Demy, Luis Buñuel, Claude Lelouch, Claude Berri, André Téchiné. In terms of style, she is the muse and friend of the biggest couturiers.
Read also: Twiggy – an icon of the 1960s
Catherine Deneuve's relationship is not just about clothes
The celebrity star, who according to Johnny Hallyday's biographer had an affair with him during the filming of the movie directed by Marc Allegret, "Les Parisiennes," recalled with a smile on her face a scene from Ridely Scott's film in which she took a shower with David Bowie. At the same time, with only her innate elegance of expression, she admitted that she had met Elizabeth II, but could not remember the details.
Elegant as the tuxedo of Yves Saint Laurent, whose muse she was, she likes both avant-garde and classic, timeless styles. She wears creations from the biggest designers – Nicolas Ghesquière a from the house of Louis Vuitton and celebrity favorite Alexandre Mattiussi. Her relationship with fashion is not limited to her choice of creations. He is well versed in fashion trends, cuts and materials. According to renowned fashion designer Jean Touitou, she is aware of the art of making clothes. "Catherine knows fabrics well. When she touches them, her fingers know if they are eager for ephemeral glory, or if they can be trusted to accompany us. Catherine also knows cutting, well, no, not cutting, but let's say volume."
A fulfilled grandmother, liberated from appearances
Full of vital energy. He often leaves the house and goes to bed late. In the past, she smoked cigarette after cigarette. A fulfilled grandmother and liberated from appearances. Delighted to be a grandmother, very close to her grandchildren, she considers it "a real gift, real happiness." Catherine Deneuve, Gentlewoman are strangers to the diets that some actresses are so fond of.
He likes to meet with friends over a meal together. "It's so good: we talk. We drink. We even drink a little too much…" For Catherine Deneuve "Water is only pleasant when it is very hot and you are very thirsty. Otherwise it's bland." "I love cake, but I don't know how to make it. I like basic baked goods, the ones that confectioners make again today. Eclairs, meringues with whipped cream." she confessed. She does not consider gluttony to be her greatest sin.
Cooking is part of her life. Nothing is more important to her than a meal with friends or family. As she says, "I have always celebrated the birthdays of my children, my sisters, my mother, it's an important ritual." Cheese soufflé is one of her favorite dishes. She likes Italian and Thai cuisine, which she says is subtle and fragrant.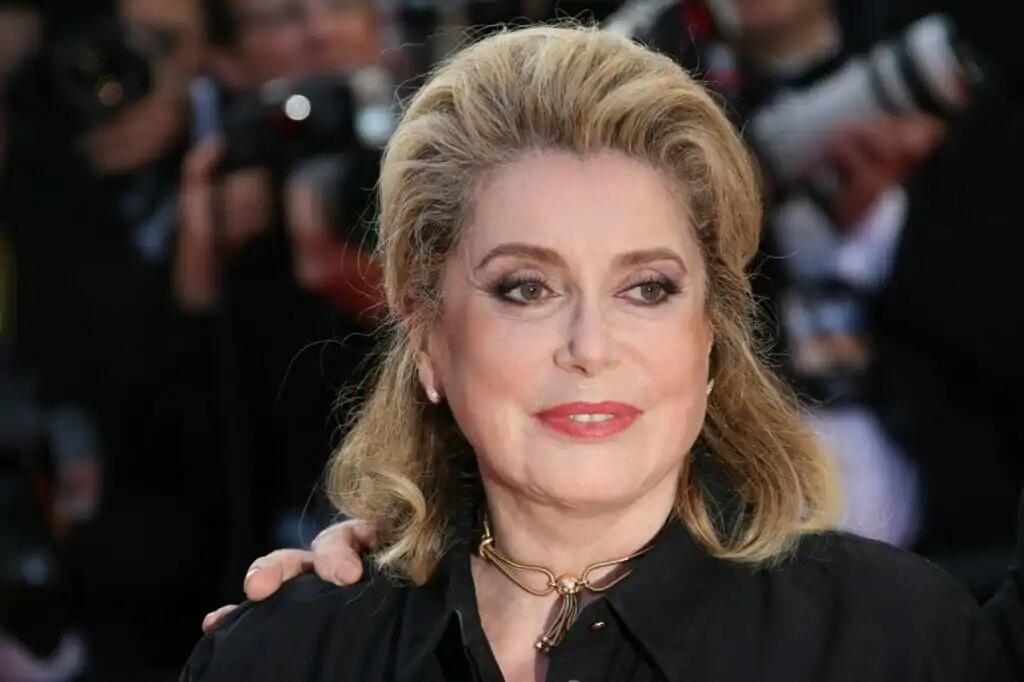 A way to stand out
At the age of 17, she decided to bleach her hair. A way to distinguish herself from her sister, Françoise Dorléac, a brunette like her. In the famous film "The Umbrellas of Cherbourg," directed by Jacques Demy, she already appeared on screen as a blonde. The former face of L'Oréal anti-aging skincare believes that "Makeup was invented to make women beautiful. On stage, it helps capture the character you're going to interpret." She put more than 125 pairs of shoes up for charity auction. He often hums songs. He admits to nonchalance, "which can be lazy and seductive," but he doesn't like the lack of energy in people.
"I love the countryside, I don't want to do without it."
She relaxes and recuperates on weekends tending the garden in the park of the chateau she owns near Vernon, in Eure-et-Loir. "I love the countryside, I don't want to do without it, but I couldn't do without Paris," she confessed. The garden provides her senses with a rich array of scents. So is the perfume. She admitted that her taste has changed. "Twenty years ago, I treasured gardenia, jasmine. But it also changed with my liking for flora, for nature. When you are interested in plants and flowers, you approach the universe differently." She used L'Heure Bleue, Guerlain, for a very long time.
Perfume "Deneuve"
The world of fragrances for Catherine Deneuve also includes candles. He buys them at his favorite Diptyque store on Boulevard Saint-Germain. She is one of his most loyal customers. And if you would like to know where she perfumes, let's give her the floor: "Not on clothes, because it stays very long after. Rather, neck, neck. I do a lot of neck and then lightly spray myself before going out."
Avon launched the perfume "Deneuve" in 1989. They are no longer produced. As Catherine Deneuve admitted, "It was a good perfume, created by Avon. When this company was sold, my perfume fell into a decanter. It was too expensive, there was not enough margin. Very good quality, they had a technical problem because the bottle, if it was nice with a low and rectangular shape, was complicated to make."
She worked with Richard Avedon, who was responsible for the advertising campaign for Chanel perfume No. 5, of which Catherine Deneuve was the face. Modest as ever, she admitted that" I only posed for pictures, at that time there were very few actresses who did it…. Audrey Hepburn – Givenchy."
Obligatory light makeup
The garden, the smells, the fruits. The ally of her morning with which she starts each day is lemon. Specifically, a glass of lemon juice. This is one of the myriad beauty secrets revealed in an interview published by the American website Into The Gloss. Beauty rituals also include daily moisturization. In the morning, she uses a cleansing milk and then applies a moisturizer, preferably from Clarins or Darphin. In the evening, a cream to promote cell renewal. Obligatory light makeup. Transparent, loose, by Clé de Peau. Favorite lipsticks from Nars and Armani brands.
Passion for antiques
An icon of French cinema who, if she hadn't become an actress, would have wanted to be a marchande of works of art. She is filled with passion for antiques. She loves going to the flea market in Vanves and Saint-Ouen, where she looks at clay pots, embroidered tablecloths, paintings and tables. What else can surprise? Elegant long dresses, shoes from Roger Vivier, classic, but revealing her small tattoo on the neck of her feet. A small handbag, handmade, Chanel or Vuitton, to complete the look…. Who better than Catherine Deneuve to epitomize timeless French chic? Alexandre Mattuissi recently chose her as the face of his new handbag, Déjà-Vu.
Catherine Deneuve suffers a stroke
In November 2019, at the age of 76, she suffered a stroke on Emmanuelle Bercot's PlanDe Son Vivant. Fortunately, it was a very limited ischemic stroke and therefore reversible. After the incident, as Paris-Match reported, Catherine Deneuve decided to pay more attention to her health and give up Vogue cigarettes, as well as sleepless nights. She returned to the film set. He says he gets his unlimited energy from his mother, 108-year-old Renée.
Summary
"I believe that my relationship with society is a kind of pact based on sincerity. Whether I'm playing Buñuel's "Tristana," the heroine of Truffaut's "The Last Metro" or Emilie from André Téchiné's "My Favorite Season," the extra soul I'm expected to incorporate into my role is the way I experience my character's situations and feelings with my sensitivity and participation in the experience. Isn't this alchemy more interesting than indecent displays of emotion related to episodes of my private life?"
(Statement to Télé Star magazine in 1993)
UDOSTĘPNIJ