"For all the little boys and girls who look like me and look, this is a beacon of hope. It proves that when you dream big, dreams can come true. And ladies. Don't let anyone tell you that you're past your age." At 60, she is proud, enthusiastic and very emotional. A beautiful message of hope and openness to the world for the years to come.
Table of Contents:
From Malaysia to the UK
She has been called the female Jackie Chan, but Michelle Yeoh has gone far beyond that nickname, not limiting herself to martial arts films, and also demonstrating her skills as a producer. Born in 1962 in Perak, Malaysia, to an English-speaking Chinese family, Michelle Yeoh, whose family name was Yeoh Choo-Kheng, left her homeland at the age of 15 to settle in the UK with her parents. From an early age she was passionate about all kinds of sports, ballet, swimming and squash. After spending several years in London at the Royal Ballet School, a back injury forced her to give up dancing at a professional level. She enthusiastically discovered the world of martial arts movies and began intensive kung-fu training. She soon revealed all her talents as an acrobat and was increasingly getting roles. Performing her stunts without a stunt double, she quickly became a key player in martial arts films. Upon her return from London, she was elected Miss Malaysia in 1983, and shortly thereafter filmed a commercial with Jackie Chan. "I agreed to go there to silence her (mother)," Michelle Yeoh said with a laugh. And he wins the title. She is spotted by production company D&B Films, where she will begin her career as an actress in Hong Kong cinema. She learned Cantonese. She made her debut in 1984 under the direction of Sammo Kam-Bo Hunga in action comedy Owl vs. Bumbo. The following year, she reunited with this director and Jackie Chan in another kung-fu comedy, Hong Kong Cop 2, and got the lead female role in Sense of Duty II. She appears in action films and becomes one of the leading actresses of the genre, performing her own Jackie Chan-like stunts.
A career in Hollywood
Despite this success, she put her career on hold in late 1980 to devote herself to her marriage to businessman and producer Dickson Poon, head of D & B Films. After her divorce, she returned in front of the camera in 1992's Police Story III: Supercop, reuniting with Jackie Chan. The box office triumph was such that she became the highest-paid actress in Asian cinema. She multiplied roles, which led her to work with Yuen Woo Ping, a filmmaker and choreographer. At the same time, she abandoned the nickname given to her at the beginning, Michelle Khan, in favor of Michelle Yeoh.
In 1997, Hollywood opened its doors to her career with the role of James Bond's girlfriend in Tomorrow Never Dies. She gained international acclaim in a role that highlighted both her stage play and physical side. So it became natural for director Ang Lee to contact her to star in Tiger and Dragon in 2000, where she was able to showcase acting – alternating between action and lightness – thanks to Woo-Ping Yuen's choreography. The feature film wowed audiences and critics alike and won four Oscars, out of ten nominations. From then on, her career was divided between East Asia and the United States. The year 2002 saw the founding of his own production company, Mythical Films. She became executive producer of the film The Talisman by Peter Pau, in which she also played the female lead. Four years later, she starred in Rob Marshall's drama Memoirs of a Geisha with three other great Asian actors: Zhang Ziyi, Gong Li and Ken Watanabe. She then finds herself alongside Jet Li in a film in which her physical abilities are again highlighted, The Master of Arms.
Her projects follow in quick succession, and she has appeared in four films in the past few years. In 2007-2008, fantastic adventures such as Sunshine by British director Danny Boyle and Mummy 3: Tomb of the Dragon Emperor, but also the historical drama Orphan Huang Shi, alongside Jonathan Rhys-Meyers. That same year, Mathieu Kassovitz offered her one of the leading roles in his science fiction film Babylon A.D..
After two new experiences in 2010 in action films(True Legend and Reign of Assassins), she tried her hand at animation, lending her voice to the character of the Fortune Teller in Kung Fu Panda 2. She was also behind Luc Besson 's biographical film about Burmese activist and Nobel Peace Prize winner Aung San Suu Kyi, performed by Yeoh herself.

With a few exceptions(the sequel to Tiger and Dragon and IP Man Legacy: Master Z), her career since 2010 has taken place across the Atlantic. She joined two major franchises: Marvel Cinematic Universe, where she was given two separate roles in Guardians of the Galaxy 2 in 2017 and Shang-Chi and the Legend of the Ten Rings in 2021, and Star Trek.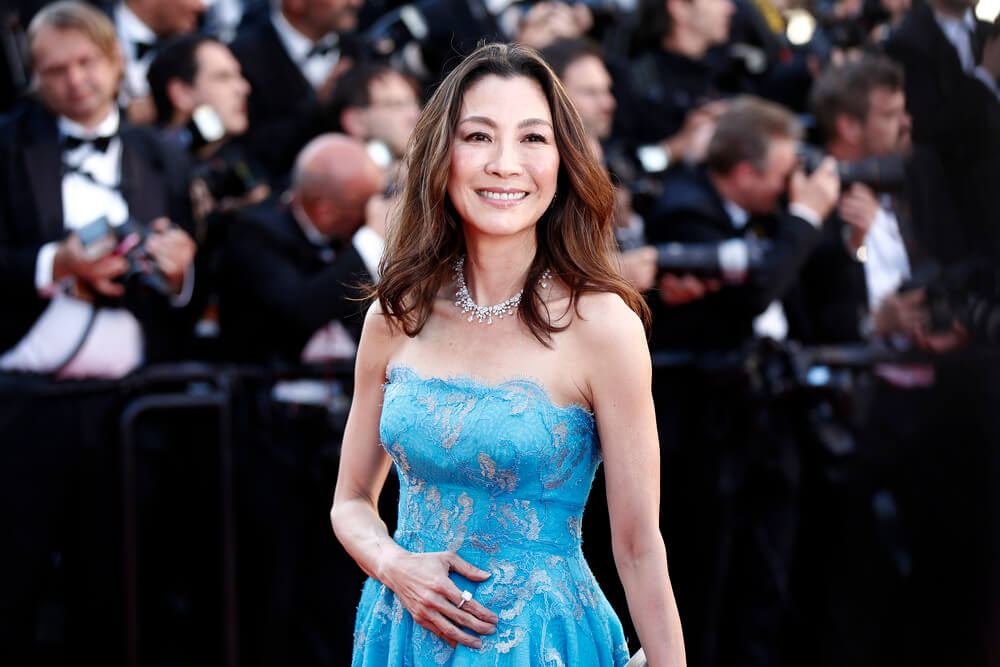 Films that brought recognition
The actress has also been able to make an acting name for herself in lucrative projects such as the romantic comedy Fabulously Rich Asians and the crazy Everything Everywhere At Once (2022). The former became one of the surprise hits of 2018, bringing in more than $238 million in revenue worldwide on a budget of $30 million, while the latter was the biggest hit for production company A24 and enjoyed an extremely positive reception from viewers. Two projects that had in common based on a cast of Asian descent. In Everything Everywhere All at Once, the actress plays a mother and owner of a self-service laundromat responsible for saving the world by exploring parallel universes. A performance that allowed Michelle Yeoh to be the first actress of Asian descent to win the Oscar for Best Actress at the 95th Academy Awards ceremony. Michelle will soon appear in sequels to Avatar and The Witcher titled Blood Origin.
Also read: How Wong Kar Wai combines film and magic?-Asian cinema conquers the world.
Fame Day
March 12 is a date forever etched in Michelle Yeoh's memory. At the age of 60 and after a career spanning forty years, the Malaysian actress won the Academy Award for Best Actress, crushing the competition. In this category, the big names in cinema, namely Cate Blanchett, Michelle Williams, Ana de Armas and Andrea Riseborough, who gave a nod to the talent of Michelle Yeoh, unforgettable in the science fiction film. All Everywhere, All at Once, in which she plays the character of Evelyn Wang, an overwhelmed woman who discovers she exists in several universes. She was perfectly played by Michelle Yeoh, who has already won a Golden Globe and SAG Award since the awards season began. By winning the Oscar, Michelle Yeoh became the first Asian actress to lift the statuette in this category. As her name echoed through the auditorium, the actress first threw herself into the arms of her husband, sitting right next to her, and then kissed various members of the film's crew. Michelle Yeoh told Paris Match in 2008 that she liked "his confidence in her." "He's charming and doesn't feel threatened by my work, probably because he's done so well that he has nothing to prove. He is a star himself. Each in turn leaves the light to the other. We are proud of each other." – she said. Jean Todt was, of course, at Michelle Yeoh's side at the Oscars when she received the precious statuette. He hugged her before she went on stage to accept the trophy from Jessica Chastain and Halle Berry.
"I have to dedicate this Oscar to my mother. And to all the mothers in the world, because they are true superheroes. Without them, none of us would be here tonight. My mother is 84 years old and this Oscar I will bring. She is looking at us with her family and friends, I love you from the bottom of my heart, I will take this statuette home to you."
Yeoh, accompanied by family and friends, watched the live broadcast of the Oscars ceremony at a cinema in Kuala Lumpur, where cheers, hugs and tears of joy erupted when the verdict was announced. "Malaysia!" shouted Michelle Yeoh's mother during a video call with her daughter minutes after her historic Oscar win was announced, referring to a popular slogan that can be translated as "Malaysia can do it!"
"I am very happy. I am proud of my daughter. She is very hardworking," – Janet Yeoh told reporters after her daughter became the first Asian woman to win an Oscar for Best Actress. "I will call her to come back (to Malaysia) and celebrate (it) very soon. Next month is my birthday"."It was a stunning moment," – Michelle Yeoh's niece, Vicki, said. "I fainted, crying. Everything passed so quickly. We are so happy that she won, that she won her aunt. We repeated to her: "You will win… You'll walk out on stage with a gold statuette" – she said.
Not just Oscar
In 2013, Michelle Yeoh was named "Tan Sri" by the King of Malaysia, one of the country's most prestigious civilian awards. In Hong Kong, where the actress worked for a decade before becoming a Hollywood star, Culture, Sports and Tourism Secretary Kevin Yeung praised her and called her a "shining star with impressive achievements." "A testament to the great potential of Hong Kong's talent and film industry" – he said.
In 2007, in Kuala Lumpur, François Hollande decorated the following. Michelle Yeoh with the title of Commander of the Legion of Honor. The actress is thus awarded for her outstanding contribution to the humanist cause and the film industry, receiving France's highest honor.
Michael Schumacher played matchmaker
She was spotted by billionaire Dickson Poon when she won the Miss Malaysia and Miss Bomba Australia competitions. Thanks to Dickson, she starred in her first commercial alongside the mythical Jackie Chan. Seduced by Michelle Yeoh's professionalism and charm, Dickson Poon persuaded her to sign on with his production company D&B Films. The marriage ended in divorce in 1992, Michelle Yeoh has lived in Switzerland since 2004. She is married to Jean Todt, a former French racing driver and former head of Ferrari's Formula One team. It was in Shanghai, in 2004, that their paths first crossed: "When I saw her, I fell in love with her, and then we started talking, and when I came home, two three days later, I told my son that I had met Michelle Yeoh. He was the one who first showed me the Tiger and the Dragon.". Later, due to distance and the language barrier, the two young lovers wrote to each other a lot. Moreover, Michael Schumacher advised Jean Todt to stay in touch with Michelle Yeoh. "I told him about my meeting with Michelle. He told me that I had to bring her and it was he who told me to text her". Yes, Jean Todt in 2004, did not know how to send a text message. Suddenly, a Formula One driver came to his rescue."He taught me how to send text messages," says Jean Todt."In the end, it went quite well." Jean Todt is one of the few allowed to visit Michael Schumacher since his skiing accident. The two crazy drivers met on the race track. Jean Todt was the head of the Ferrari team For fourteen years, starting in 1993. Fourteen years during which German driver Michael Schumacher won consecutive championship titles. In 2007, the couple, who cherish discretion in their romance, got engaged.They have appeared many times at Formula One circuits around the world or at film festivals around the world, such as Cannes in 2008 or 2009. Each of their appearances causes hysteria for photographers. Today Jean Todt and Michelle Yeoh are still in a relationship and are happy. A crazy story that could become a real script for a romantic comedy….
Ceremony
A wedding as romantic as it is discreet. The lovers reportedly said "I do" in an intimate ceremony, amid a few carefully selected guests. Everything would be arranged so that the secrecy would last until the wedding; the bride would only appeal to relatives to gather the necessary things until her dress was made by a couturier friend. While the man who shares her life is a former French rally pilot at the head of the team's Ferrari and former president of the Fédération Internationale de l'Automobile until 2021, Michelle Yeoh simply doesn't like to drive and never gets behind the wheel!
Committed actress
Michelle Yeoh is a patron of the Brain and Spinal Cord Institute (now ICM) and is actively involved in encouraging donations that allow the institution to continue its research and operations. Her fiancé Jean Todt also supports the cause, sitting on the board of directors among the founding college.
Editorial recommends: Asian masters of ceremony "Geishas"
UDOSTĘPNIJ