"I you… Well very… I without you… Well bland… We have such a wonderful… The two of us… Similar of course to… Like two drops… I remember the first time I saw you in…". This is a poem that the Ukrainian president publicly dedicated to his beloved, Volodymyr Zelenski
Table of Contents:
From actor to politician
For a long time Volodymyr Zelenski was seen only as a former comedian who became president by accident. The crisis and then the war with Moscow made him appear in a new light. He became a symbol of the entire country's resistance against the Russian invaders. Volodymyr Zelensky's political adventure began almost as a farce, on the evening of New Year's Eve, December 31, 2018, with the televised announcement of his candidacy in the presidential election. At the time, he was popular across the country with his series Servant of the Nation, the biggest success in the history of Ukrainian television with 20 million viewers. He played the main character: an honest but naïve history teacher who happens to… the office of President of the Republic. It's impossible to make it up. Without any political experience, but playing on his fame, the comic actor entered politics.
Volodymyr Zelenski won 73% of the vote in the second round of the presidential election against incumbent oligarch Petro Poroshenko. Voters were told the truth: he knew absolutely nothing about it. Nothing about politics, nothing about diplomacy, and that's why people trusted him. They were persuaded by his role as a teacher who spoke out loud what others were thinking. During his opening speech, he said: "I really don't want my pictures in your offices, because I am neither a god nor an icon, but rather a servant of the Nation. Instead, hang pictures of your children and look at them every time you want to make a decision". He transformed himself from an actor into a president defending the freedom of his people. Some see him as a worthy successor to Winston Churchillduring World War II.
Typical Soviet Jew
He received a "regular Soviet Jewish education." Zelenski told TheTimesof Israelnaearly 2020, on the eve of his visit to Israel to mark the 75th anniversary of the liberation of Auschwitz, that his family was typical of Soviet Jews in the 1980s, during which they grew up. This meant, he said, that they were not religious because "religion did not exist in the Soviet state as such." Indeed, Jewish rituals were illegal and Jews were monitored, although many retained elements of their Jewish identity as acts of resistance. If this was the case in Zelensky's family, he did not say so. "I never talk about religion and I never talk about God, because I have my personal opinion about it," he said in an interview. "Of course, I believe in God. But I only talk to him on very intimate occasions."
As with most Ukrainian Jews, the Holocaust is part of its history. Zelenski said his great-grandfather and his grandfather's three brothers were killed by the Nazi invasion of Ukrainian territory. His grandfather and brothers took up arms against the Nazis fighting as part of the Red Army. His grandfather was the only survivor. He did not say whether they died in battle or in the massacres carried out by the Nazis, which claimed the lives of more than a million Ukrainian Jews. His grandmother, survived because she left Crooked Horn (her hometown) for Kazakhstan. Almost all the Jews who chose to remain were murdered. A Holocaust memorial near his parents' home in Crooked Corner was desecrated in January 2020.
He says that being Jewish is a small part of his identity. Zelenski rarely speaks publicly about his Jewish identity, and by all accounts it has had little impact on his campaign, including his opponents. Asked about his Jewishness by French Jewish philosopher Bernard-Henri Levy in early 2019, Zelenski refused to address the issue further, Levy noted when the interview was published in the French newspaper Le Point. "The fact that I am Jewish barely ranks twentieth on my long list of disadvantages" – he told Levy. He thanked his Jewish parents for their good moral credentials. Zelensky's father, Oleksandr, is a mathematician and head of the computer science department at the university; his mother, Rimma, was an engineer for many years. In a 2018 interview, shortly before officially running for president, he said that because of the education he received, he could not accept lying. "I always react painfully to lies." – he said."This is the main trait my parents gave me."
Ties to Israel
It has many ties to Israel. Zelenski said that some of his family left Ukraine for Israel in the 1990s, at the height of the wave of Jewish emigration from the recently dissolved Soviet Union. He also worked there as an actor and performed in many venues around the country. As president of Ukraine, he visited Israel only once, shortly before the outbreak of the COVID-19 pandemic, in commemoration of the Holocaust. "I know Israel," he said in an interview with The Times of Israel. "I know people there." He received a scholarship to study in Israel, but ultimately did not go. In a 2018 interview with an entertainment industry friend, he said he earned a perfect score on his English language certificate, opening the door to study in Israel after high school. Most of his classmates exercised this option – he cited a woman who later moved to Israel – but not himself, recalling his father's opposition to the trip. Instead, he studied law in Ukraine.
A career in show business
He won the Ukrainian equivalent of "Dancing with the Stars" in 2006. His most important role on television was prophetic. In the satirical series "Servant of the Nation," Zelenski played the role of a history teacher outraged by the corruption of the government, who came to run for president – and to everyone's surprise, including his own, to win it. Produced by a company owned by Zelensky, the program was aired on Ukrainian television from 2015 to 2019. The latest episode appeared just a few weeks before Zelensky was elected president.
He lent his voice to [niedźwiedzia] Paddington in the Ukrainian dubbed versions of the "Paddington" films. A clip shot on the dubbed films shows the future president lending his voice to the adorable bear in 3D. At one point, he can be heard mimicking Paddington's reaction as he puts an electric toothbrush up his nose.
He loves dogs, sports and shawarma. Zelensky's Instagram account before his presidency reflects the passion of the man he was before he was elected to represent Ukraine internationally. He regularly publishes selfies of his workouts, less so since he became president. His dogs Peter and Nora were also favored by social networks. Shortly after taking office, he published a photo of himself eating shawarma, with the following comment: "When you're on a tight schedule, shawarma can be the solution…. For those in power I recommend!"
Who are they to each other?
One day in December, Volodymyr confided to his wife that acting did not meet his life expectations and dreams. He invoked the careers of Reagan and Schwarzenegger, actors who became men of great politics. He decided to devote himself to a political career and run for president. Olena was initially not too enthusiastic about the idea. "I said to him: are you crazy?" – she recalled in an interview with "Corriere della Serra" in 2019, after which she added: "I was totally against the idea. And I let him know this in a very firm way. I saw the difficulties in realizing this intention. It didn't even seem like an idea to me. It was a complete change in our lives so far". However, when she realized that this was so important to him and that he would do anything to protect his family's privacy, she supported him in his pursuit of his dream goal.
She became the first lady of Ukraine on May 20, 2019. From a screenwriter and producer, she became his image advisor. For her husband, she became a wife, a co-worker and an indispensable support. She put her professional ambitions aside, devoting herself entirely to her husband. As befits a first lady, she also did not forget about charity and social activities.
Olena is the love of Volodymyr's life, which he shows her at every possible opportunity. He writes poems for her on her birthday, and she reciprocates by posting a selfie together on Instagram, which she captions with, for example:"This photo has almost everything I need for happiness."
Editorial recommends: Olena Zelenska – who is the wife of the President of Ukraine?
A love story
Since the beginning of the Russian invasion of Ukraine on February 24, 2022. The Ukrainian president communicates widely on social networks. Volodymyr Zelenski regularly appears surrounded by his wife and children. A family that occupies a key position in the role of head of state. In recent days, the Ukrainian president has repeatedly invoked his family, his wife Olena Zelenskaya, his children Oleksandra and Kirilo or his parents and grandparents, from whom he draws a multiple heritage that crystallizes his country's identity issues. Like him, they remained in Ukraine despite the raging conflict. A close-knit family in adversity, the presidential clan accessible through direct communication that reinforces the image of a popular and "normal" head of state.
They were born in the same city – Crooked Horn located in central Ukraine. They attended high school together, although they didn't have the opportunity to get to know each other at the time. Later, Olena studied architecture at the civil engineering department of Crooked Horn University, while Volodymyr studied law in the same city. Before they met, she had been involved and engaged to another man for eight years. Although she and her fiancé had known each other for a long time, their future together was still a big unknown to her. The partner, unlike Volodymyr, was not ready to seal the relationship.
Olena hooked up with Volodymyr, interrupted her studies and, following her beloved, got a job at the film studio of the Kvartal 95 company, where she made a career as a screenwriter and producer. Together with her husband, she created humor programs, shows and skits in which Volodymyr performed. They soon became very popular among Ukrainians, especially Zelenski, who appeared in the series "Servant of the Nation."
They married on September 6, 2003, and a year later Olena gave birth to a daughter, Alexandra. In 2013, their son Kirill was born. When Alexandra was 10 years old, she co-starred with her father in the film "8 New Dates," where they played the roles of daughter and father.
In honor of Children's Day, Olena posted the following message on Instagram:
"Dear adults, let's remember this not only on Children's Day, but every day, every moment. Let's remember that children need our love, our care and our support. Let's remember that children are our future, a continuation of ourselves, and let's do everything we can to ensure that all children have a happy childhood and feel safe".
Difficult beginnings as First Lady
With the election of her husband to the highest office in May 2019, Olena Zelenska left the profession of screenwriter and producer to compose the public persona of the first lady. An exposed function in which she is fully involved. "As soon as I became the first lady of Ukraine, I realized the role I could play in supporting humanitarian and social causes that had already animated me throughout my career" – she said The Diplomatic Courier, who interviewed her in September 2021 while accompanying her husband on an official trip to Washington.
The Americans and Ukrainians were convinced that diplomacy and deterrence would be effective ways to counter Moscow's increasingly stated ambitions. Volodymyr Zolenski even invited Joe Biden to Kiev, and his wife, still in the press, stressed the importance of culture: "I really believe in soft power and cultural diplomacy. For us, this is very important in Ukraine. Our nation and society have a rich history of centuries and we have contributed to the world in many ways. Art and history are two of the most effective ways to highlight and create dialogue between cultures using soft power. I led an initiative to provide audio guides in Ukrainian to key historical and heritage sites around the world, and to date we have completed 31, including Versailles in Paris."
The visit to France was an opportunity for Olena Zelenskaya to exchange views with Brigitte Macron. The two women know each other well, having first met in June 2019, just weeks after Volodymyr Zelensky was elected. Moreover, Ukraine's first lady is full of praise for her French counterpart. Still on her Instagram account, she wrote at the end of their first exchange of words:"Thank you to the extraordinary first lady of France for the friendly interview, the warm atmosphere and the advice she was kind enough to share."
Who has influence over Ukraine's president?
In 2019. Zelensky became Ukraine's youngest president at age 41. Since then, his wife, in addition to continuing to take care of his public image, has been involved in the fight for women's equality, accessibility of all citizens to culture in the broadest sense, the fight against obesity, child rights activities, and the promotion of the Ukrainian language. In cooperation with museums in Germany, Lithuania, the United Kingdom, Austria, Azerbaijan, Israel, Turkey, Latvia, Montenegro, and the Vatican, Ukrainian-language audio guides were introduced thanks to her efforts, breaking the previous exclusivity of the Russian language. It has used social media in its activities, increasing the reach of its social messages. She is a cultural and tourism ambassador for Ukraine.
"She was the one who took care of my image. I didn't have time to follow fashion trends. Olenka chose the clothes, and I bought them" – Volodymyr confessed to a newspaper.
Olena admitted in an interview in Vogue Ukraine: "I don't have enough time to be alone with myself. I have two children, so I am used to rarely being alone. In the past, my only escape to privacy and solitude was the car. Now I am deprived of this as well – I am always accompanied by security. My only solitude now is the bathroom".
Marriage and children
The Zlenskis, when not constrained by diplomatic protocol, are an ordinary, loving couple. They hold hands, kiss in public and profess their love for each other. They created a home with children, two dogs, a guinea pig and aquarium fish. Olena has always tried to make their home warm and make everyone feel comfortable.
This year, she wrote to her husband under a birthday photo: "I wish every woman had the kind of look you give me. Only those who sincerely love look like this. I always feel your love, as long as you are, I am not afraid of anything".
During the coronavirus pandemic, Olena did not remain passive. She visited social welfare homes and orphanages. It was during one such visit that she contracted COVID-19 and had to be hospitalized. She underwent severe pneumonia.
At a time of the gravest trial her country is currently experiencing, she has remained by her husband's side and has no intention of leaving him no matter what the circumstances. "Dear Ukrainian people! I look at you today through television, on the streets, on the Internet. I am watching your transmissions and videos. You guys are amazing! I am proud to live among you, in one country. It is often said that people form a crowd. This is not the right term for Us. That's because many Ukrainians are not a mob, they are an army!"
Little known outside of Ukraine until February 24, President Zelensky's wife is now one of the faces of resistance to the Russian invaders in the eyes of the world. This TV woman has promised a different destiny, says she wants to stay by her husband's side, whatever happens, and inspires awe.
Let them choose how they want to live
In November 2019, Olena Zelenska, Ukraine's first lady, was the subject of a feature in the renowned Vogue magazine. In that interview, the wife of President Volodymyr Zelensky said that she attaches special importance to protecting her children away from public life. She explained with modesty how she is slowly getting used to the role of First Lady and the demands that come with it:"I am not a public figure, but the new realities require their own rules and I try to respect them, "she confessed. Preferring to leave the role of country headliner to her husband, she explained that being first lady gives her a chance to be a kind of spokesperson on certain social issues. "It is not in my character. But I found the advantages of fame. One of them is the opportunity to draw people's attention to important social issues".
Being partly in the limelight, Olena Zelenskaya is slowly getting used to it. On the other hand, when it comes to her children, she is categorical. She does everything to protectOleksandra (born 2005) and Kirilo (born 2013), and even more so in times of war, as you can imagine. "I haven't published their photos on social media before, and I won't now either." The presidential couple has always wanted to maintain a certain anonymity towards their children so that they can enjoy a "normal" childhood, which nevertheless must be delicate to say the least since the beginning of the war in Ukraine. Let them choose how they want to live. My eldest daughter, Sasha, has acted in films before, but I hope she will not go further in this field. The youngest, Cyril, still has a chance to have a normal childhood, play with other children, play sports, go to music school without attracting undue attention."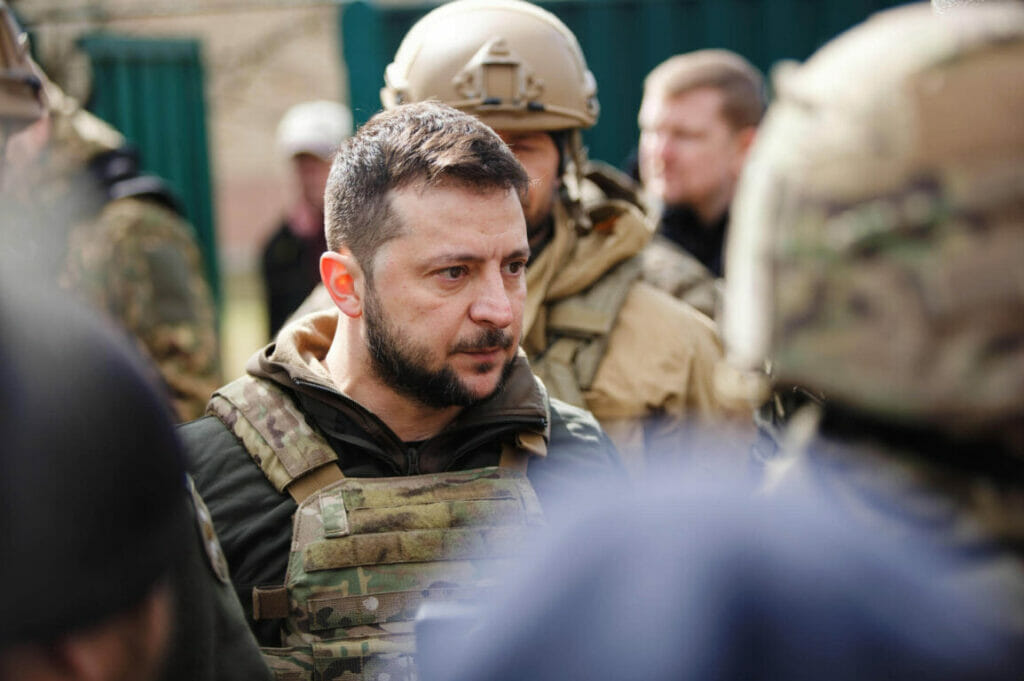 In the eyes of others
People who know Zelenski well say of him that he is just as he seems at the moment. "I always thought he had a deep sense of right and wrong" – he said in recent days "The Washington Post" Senior advisor to Zelensky on condition of anonymity. "He will never accept if he thinks something is wrong". The newspaper asked the advisor if he believed Zelenski was ready to die. The advisor answered without hesitation: "Yes".
Read also: Aleksandra Domanska – gentlewoman of the 21st century
UDOSTĘPNIJ