Fashion icon, actress, singer and activist. GentleWoman among the stars. Brigitte Bardot has had a huge impact on the world of fashion and cinema. To this day, she is an inspiration to many women. However, it is not just the interesting styles that have made Bardot so respectable. Her independence and strength influenced public opinion while setting an example for women.
Table of Contents:
Brigitte Bardot – what was her uniqueness based on?
Since the 1960s, Brigitte Bardot, known as BB, continues to fascinate with her modern, sexy style. The beautiful blonde, glamorous in every way, casual, is to this day a mythical figure for many generations of women. Elle's first icon, the embodiment of the free and rebellious woman. Simone de Bouvoir stated: "She combines the green fruit and the femme fatale." In terms of fashion, it left its mark on her and future generations. Each of her clothing items has become iconic. She was always one step ahead of many celebrities of her era. Her favorite designer was Jean Bouquin, who became a close friend. Symbolizing the "ideal," she claimed, "Unlike many other women, I was never confident. Probably this doubt, which never left me, gave me a kind of impertinence, disobedience through it."
Angelic beauty and trend-setters
She was born in 1934 in Paris. She attended classical dance classes. Her impeccable figure owes a lot to these activities, in addition to natural factors.
Her angelic face, dreamlike figure and derived charisma have become her trademark. She became a star of cinema and song. Her appearance and style of dress, the manner of a liberated woman, have become synonymous with the Gentle Woman, and at the same time a femme fatale.
Brigitte was able to draw on classic fashion elements to create new looks. A style that has become a must-have. The hairstyle, almost "disheveled" and blonde color set a new trend in the area of women's hairdressing. Even today she is one of the French stars who intrigue and fascinate.
Read also: Style encyclopedia – red lipstick.
Inspiration for women
She fascinated men with her independence and women with her lifestyle. Although she admitted, "For a long time I hated loneliness. I ended up taming her, she keeps me company."
She was a star unlike any other. "I unconsciously invented fashion, never following fashion. Sometimes I caused a scandal. I arrived at the Élysée Palace in 1967 at the invitation of General de Gaulle with my hair unbuttoned, wearing pants and a military jacket," she admitted. And it is precisely this freedom, taking her own style that expresses her personality at the same time, and independence of customs that have become an inspiration for women.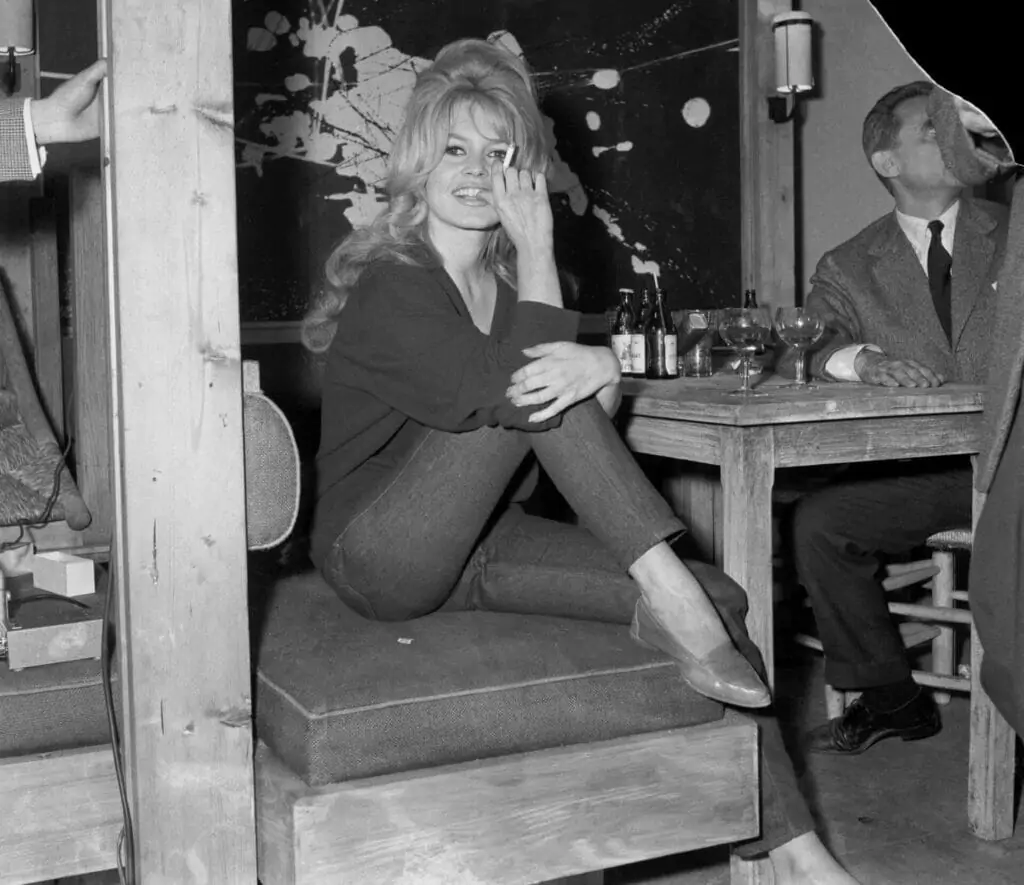 Brigitte Bardot as a sex symbol
She was a symbol of sex, sexual freedom and women's emancipation. She had an unparalleled sense of fashion, which she adapted to create her own unique style. The style that shaped its legend. A legend that still inspires today. Draped red top sensually revealing her neck and shoulders. Plus, short gloves. She combined a sweater, pants and ballerinas designed for her by Rose Repetto, who made her famous in the cult film "And God Created Woman." Sweater, ruffled skirt with a belt that emphasizes the finesse of her waist. The whole thing was dubbed the "Bardot neckline." Sailor's outfit. Striped blouse, cardigan with a wide band in the hair. Suit with cap. Mini skirt and mid-calf boots, which have become almost a fetish item of clothing. A loose sweater, jeans and thigh-high boots. These are just some of her creations.
For men, she has become an absolute fantasy, a dream. Women envied her by likening themselves to her image at the same time.
She emanated a peculiar natural beauty, an aura marking her era in an unprecedented way. She was a true influencer of her time. And so it is until now. A fashion icon setting trends for generations to come. Her appearance symbolizes the times in which she was a star. The first French woman for all French women.
Cultural impact
Brigitte Bardot, a liberated, sensual, provocative woman, continues to influence contemporary fashion with her lifestyle. Representing a symbol of GentleWoman. Her personality also had an impact on culture, public opinion, and the understanding of important issues from the reality in which we function. Setting an example to women of her own independence, she became involved in animal protection by becoming an advocate for their rights.
Her personal life was tumultuous. The relationships entered into did not stand the test of time. She retained her dignity and accepted her fate. Although she was a star, fashion and style icon she was able to relate her life to things beyond the spotlight. She is a living fashion icon and will always remain one.
UDOSTĘPNIJ