"I am proud of what I have achieved. It's a dream come true. I always believed in myself, but the idea that I would be number one in the world still seemed a little crazy. In fact, I was not sure if it would be feasible. It's a great thing to be number one in the world, I would like to stay there as long as possible, that will be my goal," said Iga Swiatek on March 26, 2022 after winning in Miami
Table of Contents:
History of women's tennis
Women's tennis played a role very early in the history of tennis. Even if the women's tournaments were less publicized than those of their male counterparts. Women's tennis was already present in the first editions of the Olympic Games in 1900 in Paris and 1908 in London. The beginning of professional women's tennis was in 1926. That's when a series of matches were played between Suzanne Lenglen and Mary K. Browne, winners of the US Open. Suzanne Lenglen is one of the early stars of women's tennis. She managed to win more than a dozen titles at Wimbledon and the France International. As an amateur, Mary K. Browne won three in a row in women's singles, women's doubles and mixed play at the US Women's National Championship (1912-1914). Between 1926 and 1927, she became the first American woman to turn professional. This good company did not lack a Pole. As a singles player, Jadwiga Jedrzejewska then played in three Grand Slam finals; in 1937 at Wimbledon and the US Open, and two years later at the French Open. In doubles, she won the French Open in 1939. and played in the finals of the 1936 French Open and the 1938 US Open.
Currently, it is Iga Swiatek who ranks among the stars of world tennis.
Family – who is Iga Swiatek's dad?
"It was Dad who showed us tennis. He first enrolled my sister Agatha, three years older, in classes. When I was smaller, I always wanted to do what she did. I envied her very much for these classes. And there's no kidding: one of the reasons I started playing was that I wanted to win with her," admitted Iga Swiatek in "Young Power. "It was my dad who taught me how to be a professional in sports. He also taught me how to be confident on the court."
Iga Świątek jest córką wioślarza olimpijskiego Tomasza Świątka. His father represented Poland in the men's double fours competition at the 1988 Summer Olympics in Seoul, where he finished seventh. Iga has a sister three years older than her, Agata Swiatek, a dental student. She has strong ties to it. Being part of the sports culture himself, the father introduced his two daughters to the world of tennis. For the eldest daughter Agatha, who had just entered the junior circuit, tennis was not the right direction. However, swimming was the first choice for Iga Swiatek, but she chose tennis after her sister. According to the WTA, her goal of playing tennis was to beat her sister in the sport. Agatha, Iga's older sister, was also a sportswoman, a promising young athlete, and even made a brief appearance on the junior circuit. She had to withdraw after several years due to injury.
Iga Swiatek's mother – Dorota Swiatek
The mother, Dorota Swiatek, is an orthodontist by profession. "I watch most of the broadcasts of my daughter's matches. Iga is now an adult, independent and self-reliant. He doesn't have to go to tournaments with his mom. He has his team. I do not feel that I have withdrawn from her sports life at my own request. To support someone, you don't have to physically be there for them." She admitted in an interview with the Sportowe Fakt portal. The tennis player's mother added that she always made sure that her daughters could realize themselves, which is why she had to devote a large part of her life to professional work. "I was a multitasking mom and actually stood on the side of the dental chair to ensure both daughters' comprehensive personal development. This has allowed them to enjoy winter vacations and vacations every year, as well as travel around Poland and Europe to pursue their passions for sports and travel. It allowed them to satisfy their every need and aspiration. Not just sports – She added.
She was afraid of water – how did Iga Swiatek grow up?
"And the sports routine began: school, training, study, sleep. I know it sounds scary, but we really went to these classes because we had fun at them. And sure, sometimes I envied my friends when they made arrangements to play ball and I couldn't because I was going to training. But very quickly I realized that I was doing something special and really cool. I lived from tournament to tournament and it gave me immense pleasure. She doesn't feel comfortable in every sport and doesn't enjoy it as much as tennis."She discovered her fear when her father enrolled her and her sister in a swimming pool. Then it turned out that she was panically afraid of water. Nevertheless, she overcame her fear. "When my dad signed us up for the pool, it turned out that I was afraid of water. I've learned to swim, but I won't be a swimmer for sure."
Iga Swiatek's career
"The first year on tour I wasn't so confident. Right now I feel I can do it and I have everything I need to play against the best players. If I continue to work hard, who knows what will happen?" she said in an interview.
Born on May 31, 2001, Iga Swiatek began playing tennis at the age of 5. InThe Player's Tribune, Iga Swiatek said: "I loved to play, but at first I didn't dream of becoming a professional player. It was my father's dream." A former member of the Polish Olympic rowing team, the man taught his daughters"discipline and consistency."
Iga Swiatek won several Grand Slam tournaments as a junior. In 2018, she won Wimbledon in singles and Roland Garros in doubles. But it was in 2020 that the tennis player exploded onto the WTA circuit. At just 19 years old, she won Roland Garros, becoming the first Polish woman to win a Grand Slam tournament. In the final, she defeated Sofia Kenin of the United States in straight sets: 6:4, 6:1. A new feat, as Iga Swiatek did not lose a set during the tournament.
The year 2022 was as beautiful for the Pole as the eight Grand Slam titles. Among them are Miami, Rome, Indian Wells, San Diego and two Grand Slam tournaments. She lifted the cup again at Roland Garros, defeating another child tennis prodigy in the final: Cori Gauff . At the US Open, it was Ons Jabeur who she beat on court to win the cup. In the same year, it became the world's No. 1.
Fibak, Szostaczko and Świątek
After winning the title at Roland-Garros in 2020, Wojtek Fibak said in an interview with L'Equipe: "It has a men's game that is different from what is offered on the women's circuit. She can dominate and become a second Serena Williams. It has a mind and strokes to it. She has always played like this. The difference is that she made many mistakes before. In particular, she drank a lot. Now she is very fair and I see her winning rallies that she would have lost before. It surprises me a lot. In any case, it owes its success to the new consistency."
"She was a little girl who wanted to learn to play as soon as possible. And when she learned, what mattered to her was winning," recalls Artur Szostaczko, her first coach. "She was a fighter… I knew that if it came to a tie-break, there was nothing to worry about – it wouldn't break." – he told AFP news agency.
Szostaczko still trains on the same dirt court where the future Polish star held her first racquet and tried her hand at hitting the ball against the wall while her older sister trained next door. "On the left, on the right, she ran for the ball, it made her laugh," he – he said in front of a wall covered with multicolored graffiti of the Warszawianka tennis club.
"Usually a child has trouble hitting even one or two balls in a row, while she was able to hit dozens of shots," added the coach, who, like Sviatoslav, always wears a cap on her head. Artur Szostaczko is proud of his former student. He always remembers the image of this playful child, always on the move, with phenomenal coordination and a perpetual smile on his lips.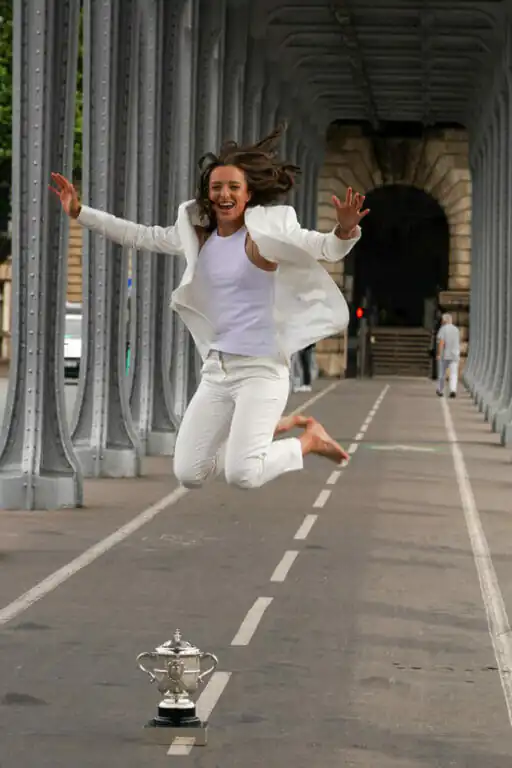 Sister Swiatek – What is the name of Iga Swiatek's sister?
The Swiatek sisters then moved to Michal Kaznowski, then a coach at the Mera tennis club, also in the Polish capital. She recalls that Iga always wanted to be treated as an equal with her older sister. "Iga got really mad at me when I proposed the exercise and gave Agatha eight balls to play with and only six for her," he – he told AFP news agency. "She went to her father to tell him that she wanted to have as many (balls) as Agatha". – he smiled, describing their rivalry as "healthy." According to him, Agata was just as talented and even had the advantage of being bigger, but her injuries doomed the chances that she could be the Polish answer to the Williams sisters. Young Swiatek continued training under the tutelage of Michal Kaznowski until the age of 15.
Also read: Zendaya – gentlewoman, winning the hearts of millions
Iga's Idol
Iga Swiatek has never hidden that she Rafael Nadal is her idol and that she was inspired by the Spaniard's playing style: "I love Rafa Nadal. I have his signature T-shirt on my wall and a calendar with Rafa. He is my idol. He is humble and has remained the same guy he was even before he won so many titles. I didn't watch much tennis when I was younger. The only tennis player who fascinated me was Rafael Nadal. I think I copied my style of play on him. I like to hit balls with great effect. Because I know Rafael Nadal as a tennis player and as a person, I respect him even more. When I was younger, I liked his looks and the energy with which he plays."
He continues to be a great role model for her, especially because of his attitude, Iga Swiatek said in an interview: "I would also like to have confidence in myself like him." Another answer to a question about whether she and Nadal consider themselves friends shows how much Sviatoslav appreciates him: "It's great to talk to him. I'm a big fan of his!"
She was not always so open to people. "There was a time in my life when I was so closed in on myself that even talking to people on a regular basis was a challenge for me. By the time I was 17 or 18, I found it difficult to look people in the eye. I hated that it was so difficult for me and I felt bad because it prevented me from forming real relationships," – Iga said.
Something for something – Iga Swiatek earnings
A professional since 2018, Iga Swiatek has already won more than 15 million euros in her career. It is also supported by sponsors such as the Rolex watch brand and Technifibre.
Private life – Iga Swiatek's boyfriend
The Polish tennis player has never wanted to talk about her private life. If she has an account on Instagram, she does not reveal her love stories. This huge Rafael Nadal fan describes herself as a "an introvert." "You can imagine that I didn't sleep at night when I was a child, dreaming of becoming a great tennis player. Of course I didn't. As a matter of fact, I dreamt at night that I behave more naturally when I'm with people," – she said In an interview with The Player's Tribune.
Thus, nothing is known about the boy Sviatoslav. However, insiders assume that Swiatek is currently single. It is also unclear whether she has ever had a relationship before. Fortunately, at 20 years old, she still has enough time to find a suitable partner by her side. Privately, Iga Swiatek is currently focusing on her black cat named Grappa.
Cooperation with a psychologist
This is quite rare in a player of this age, and even rarer to talk about it so openly. Iga Swiatek has been working on a full-time basis for the past two years with sports psychologist Daria Abramovich, a former sailor who regularly travels with her and to whom she does not fail to pay regular tribute.
"She understands me from A to Z, she makes me smarter and thanks to her I manage my emotions much better. This is important because the psychological aspect is a big part of the game. Anyone can play at a very high level. But the best are those who are the strongest mentally."
She is an eclectic music lover – what does Iga listen to?
Just before entering the court, it is not uncommon to meet Iga Swiatek with headphones in her ears. Her favorite song on Roland-Garros? Welcome to the Jungle, by Guns N' Roses.
Rather focused on rock in general (let's also mention the Red Hot Chili Peppers, Pink Floyd, Santana, Coldplay, AC/DC or Pearl Jam), this great friend of Naomi Osaka (the Japanese woman sends her a congratulatory text message after every game) says she has an increasingly eclectic taste in music. Recently, she has also opened up to jazz. But before matches, he prefers something more "powerful."
Outside the tennis courts, Iga Swiatek is rarely seen as a fan, more often in her hometown of Raszyn while shopping at the supermarket. But other than that, she is a completely normal person who does not like parties and similar entertainment. The top-ranked WTA player likes to isolate herself at night and watch one series or another on Netflix. Historical novels are also among her favorite reads.
Active on social media
Iga Swiatek regularly posts photos on her Instagram account (1 million subscribers). He also has an official Twitter account (more than 421,000 followers). "I feel that I have two modes – one is work mode and the other is private mode. So when I'm at work, I can be more social, and when I meet fans, it usually goes very well. But privately, I'm more of a shut-in; I just want to stay in my room and assemble Lego, like I've been doing for the past few weeks, and read books. I have two modes and switch from one to the other," she says. Iga Swiatek left a note for World Book Day. "I probably discovered my love for reading when I was 17. It just made me feel less alone in the world. It was fun to combine having fun and getting to know the people you read. It's more like you feel like you have a friend. I travel a lot, so I try to kill time before games with books. I realize that not many people are as lucky as I am. My goal is to have fun reading." – she said.
In January 2023, she even launched the "Read with Iga" project to encourage her young fans to read at least 12 books a year and exchange opinions on them. "I'm trying to convince people my age and younger to start reading, because this is the age when you can really start reading." – she concluded.
Editorial recommends: Magdalena Lamparska – impresses with her acting skills
UDOSTĘPNIJ