"I think it's important to see the person first and then the clothes." These words were spoken by Grace Kelly, whose name has become synonymous with elegance and timeless glamour. She marked the history of cinema as much as the history of world fashion. Princess Grace of Monaco would have turned 93 on November 12, 2022. Her aura, glamour, elegant and timeless looks still inspire fashion houses today, and some of her outfits are among the 2021-2022 trends. It is often said that there is a privileged relationship that exists between fashion and music. Much less is said about the relationship that links fashion and cinema. Probably because it is too obvious. However, not all movie stars have had as much influence on fashion as Grace.
Table of Contents:
The beginnings of a career
In 1947, at just 18 years old, Grace Kelly left the family home to go to New York, where she took up acting studies. Ten years later, she already had 11 feature films to her credit, including three with the master of cinema, Alfred Hitchcock, an Oscar and a marriage to Prince Rainier III of Monaco. A true fairy tale ending in a tragic death.
Favorite clothes and a timeless look
Her frail figure and natural elegance set her apart from actresses of the time, heavily sexualized by the cinema, such as Marilyn Monroe and Elizabeth Taylor. John Ford, the first director to give her a chance on the wide screen, said that what is most valuable about her is primarily the social environment to which she belongs and her sense of class.
In terms of style, Grace Kelly has made certain elements of clothing her trademark: a dress with a belt, bare shoulders, a double row of pearl necklace or a scarf tied around her neck. Her sublime ivory-colored wedding dress in taffeta embroidered with silk threads, created by one of Metro Goldwyn Mayer's most famous seamstresses, Helen Rose, also made its mark in the pages of world fashion. In life, she wore both a classic suit and a coat with a voluminous fur collar, very fashionable in the 1980s.
The iconic Hermes handbag with which first appeared in 1956. was among her favorites. She wore it several times having a weakness for this luxury accessory.
Her trademark was her hairstyle and in particular turbans and scarves covering her hair – or tied around her neck. She preferred scarves from Flora Gucci. The Italian fashion house, in tribute to this iconic piece of women's closet, which Grace had promoted, asked her granddaughter, Charlotte Casiraghi, to take part in advertising campaigns for the scarf worn by her grandmother.
Grace Kelly was a forerunner in the trend of openwork blouse, denim jacket / shirt and oversize glasses, which have a permanent place are on the shelves of fashion houses around the world.
Her frail figure and natural elegance set her apart from actresses of the time, heavily sexualized by the cinema, such as Marilyn Monroe and Elizabeth Taylor. John Ford, the first director to give her a chance on the big screen, said that what he appreciated about her, besides her talent, was the social circle she belonged to and her sense of class.
On screen and in private life, Grace distinguished herself by applying very little makeup and wearing elegant outfits that revealed little or no flesh. "I think it's important to see the person first, and then the clothes." – she liked to say.
She was the first in Hollywood to embrace the New Look by Christian Dior, one of her favorite designers. She wore suit pants, a sleeveless turtleneck, and a white shirt. It created the aura of the American girl next door, from the so-called "neighborhood. of a good family, a bit bourgeois, while remaining quite simple in its perception.
Read also: Angelina Jolie portrait.
Princess of cinema in Monaco
In 1955. The American actress appeared at the Cannes Film Festival. The beloved child of the United States, was invited to a photo shoot with Prince Rainier III. This meeting was love at first sight.
On January 6, 1956, the couple announced their engagement, and the actress agreed to give up her film career. Grace turned in 1956. to her friend Dior, asking him to design a dress for her to wear on the day of her engagement ball, held at the Waldorf-Astoria Hotel in New York. And so a creation with a heavily cut silhouette was created, giving a feminine, floral look. Full of splendor and distinguished by its distinctive style.
On April 18 of the same year, Grace Kelly married the ruler of the Principality of Monaco in a ceremony described by the world's mass media as the "Marriage of the Century." Broadcast live on Eurovision – which allowed all European Union countries to follow the ceremony, the wedding was held for 600 guests and gathered more than 30 million viewers in front of TV screens.
But it was Grace's wedding dress that caught everyone's eye. As was customary, despite Kelly's contract cancellation, it was her film studio, Metro-Goldwyn-Mayer that donated the gown. Helen Rose, her favorite costume designer, designed this ivory-colored silk skirt supported by three petticoats, a bodice with a round neckline in pink Brussels lace completely embroidered and decorated with cultured pearls and lace also covering the moss, shoes and veil.
Hailed as one of the most elegant adorned Grace's body on her wedding day at St. Peter's Cathedral. Santa Claus. During the civil wedding, which took place at the Royal Palace, Grace wore a different creation. In contrast to the ivory-colored dress, the pale pink set was somewhere between champagne, skin color and peach. Dressed in an embroidered veil and kid gloves, Kelly looked as stunning as ever. As befits such a moment, the star, known for her elegance, did not stay long in the outfit. She wore a different dress to receive public congratulations at a press conference. A few hours later, Grace presented her final outfit of the evening: a white silk Lanvin dress with a delicate tiara, as well as a ruby and diamond necklace, a gift offered by her subjects.
Although Grace Kelly was not the only celebrity who wore multiple dresses on her wedding day she undoubtedly helped start the trend.
For her first official portrait, the Princess of Monaco chose to wear the Colinette dress from the Dior Haute Couture Fall/Winter 1956 collection.
Even as a princess, Grace Kelly changed little in the original style given to her by her favorite costume designers when she was still an actress. She continued to work with Christian Dior, whose collections were later designed by Marc Bohan.
Fashion icon
In the 1960s. Grace, who was listed in the International Best Dressed Hall of Fame as a fashion icon, began promoting the AS Monaco soccer club's jersey, of which she was the godmother. A sense of humor and at the same time proof of how seriously she took her role as First Lady of Monaco. AS Monaco was the pride of this small principality.
The Hollywood actress turned Princess of Monaco brought many of her iconic creations to women's fashion. It embodied style and glamour, without a false note.
Marc Bohan will be the one whose creations will fill the princess' closet. Closet, adapted to the requirements and changes of its time. Ceremonial dresses in chiffon, feather or embroidered with flowers, blouse dresses and the famous double set. In 1967, the friendship between March Bohan and Grace Kelly resulted in the inauguration of the first Baby Dior boutique on Avenue Montaigne – and the duchess thus became the godmother of the new Dior line. Grace thus contributed to the rooting in women's fashion of an enduring elegance characterized by soft lines and pastel shades.
Grace Kelly, glamour in the city
Watched constantly by journalists and photographers, adored and copied by women all over the world, Grace Kelly introduced many styles that have become history. Starting with Kelly's bag. She was the first woman to be named after a bag. In 1977, Hermès renamed its High Belt Bag to Kelly. For it was on the shoulder of Grace Kelly, one day in 1956, that the fate of this bag changed the history of fashion and the concept of luxury. In 1956, when the Princess of Monaco was expecting her first child, she used it to protect her belly from the prying eyes. On the cover of LIFE magazine, the princess covered up her barely rounded pregnant belly with just this handbag to hide her pregnancy. A legend was born. The bag has become an object of desire.
Grace Kelly's distinctive style was characterized by glamour and timeless elegance, which allowed her to introduce a new aesthetic vocabulary to female silhouettes. And this is in everyday life. In this way, the Carré Hermès style has enabled women around the world to become elegant. Thanks to Grace, the Hermès silk-print scarf has also become an elegant piece to cover the head.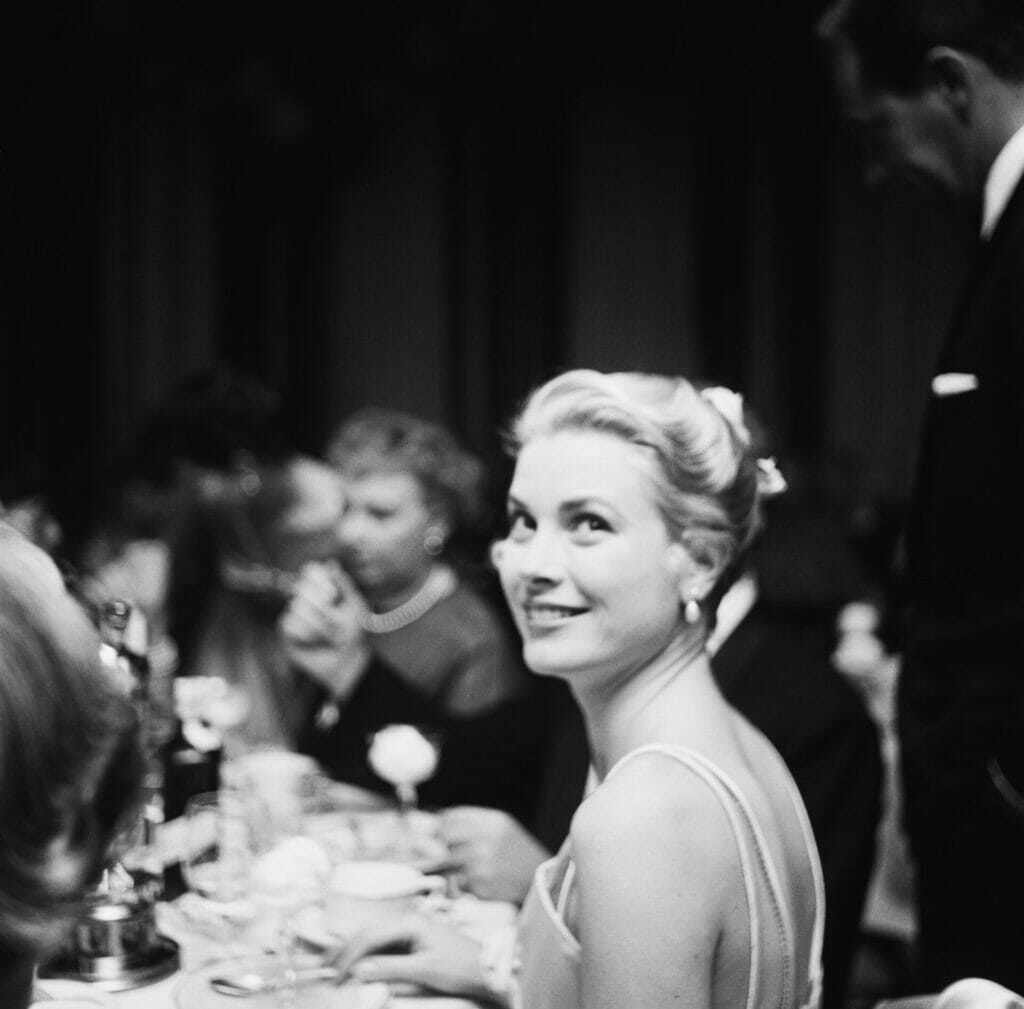 Gucci and Grace Kelly
In honor of Grace Kelly, Rodolfo Gucci commissioned a scarf named Flora from designer Vittorio Accornero, which has since become an essential Gucci code. This happened on the occasion of Grace's visit in 1960. At the Gucci boutique in Milan. Rodolfo Gucci then asked her what she would be interested in. Elegant Grace opted for something fun and colorful. She chose a scarf. Vittorio Accornero fulfilled Grace Kelly's personal request. A hand-painted floral pattern on a silk scarf; a brilliant rain of bouquets of flowers from all seasons in a kaleidoscope of brilliant colors honoring the four seasons. Nature in all its beauty. Flora has been the guiding theme of the Gucci house since that visit.
Glamour by Grace is nothing more than a way of life, taking from fashion what is exquisite and distinguished in it.
Written in the history of women's fashion
Grace Kelly had a life like a fairy tale. Blue-eyed beauty, former model, Oscar-winning actress, Princess of Monaco, wife, mother and fashion icon. For 52 years (1929-1982) she wowed everyone with her elegant sense of style that defined the glamorous 1950s.
She has mastered the art of chic to perfection with a simple twinset, pants and a pearl necklace. Her attention to detail in her hair, her impeccable makeup and style, and her poseable dancer's attitude have made her a style icon. Grace's minimalist but elegant style allowed her to shine with beauty and an impeccable image. To the simplicity of the lines and cuts she brought accessories such as a scarf, necklaces with three rows of pearls, turbans and also a Hermès handbag.
The iconic sets that have gone down in women's fashion history continue to fascinate women around the world:
-flared dresses with voluminous skirts (Grace often wore dresses with a fitted bodice, cinched waist and loose fit)
-gloves worn for both everyday and special occasions,
-dresses with sweetheart necklines,
-scaled "cat eye" glasses,
-unusual headwear, turbans and fur ettles.
Grace Kelly's style continues to inspire today. Both women and fashion designers. Even today, more than 30 years after her tragic death in a car accident, we copy her impeccable chignon, her neat makeup, pearl necklaces and elegant outfits. Grace Kelly has become a reference point for fashionistas, and not just on the red carpets of Hollywood.
UDOSTĘPNIJ