A man, whether he is 25, 45 or 65, should dress to express his personality. There is no such thing as a set of established trends or a list of"must-haves" of a man's closet. The golden rule is to find your own favorite style that fits your lifestyle, your way of being, that allows you to present your best self – with panache and awareness. So how should a stylish man present himself regardless of latitude? Introducing the most stylish men over 50 from the world of film, fashion and music, whose style is like wine, getting better with time!
Table of Contents:
Eternal classics – what do Tom Ford and Don Draper style have in common?
If we are talking about timeless, classic men's style, then the best silhouette is certainly Tom Ford: American fashion designer (who has created collections for Gucci, Yves Saint Laurent and the author of his own brand), film director, creator of best-selling perfumes and cosmetics (including for men!) visionary, whose sophisticated and extremely aesthetic lifestyle continually inspires. Born in 1961 in Texas, the creator is a proponent of the perfectly tailored suit. According to him, the classic cut, which has sublime flared shoulders, a narrow waist and visually elongates the legs, is always the ideal solution and the basis of a man's closet. According to Ford, a man should try to wear a suit every day so that whenever he wants or needs to, he feels comfortable and confident. One of the secrets of Ford's men's style is to match the shoes to the watch strap. Seemingly a small thing, but it makes a difference. Yes, the devil is in the details. What about the perfume accompanying the styling? Certainly a combination of patchouli, vanilla and leather notes. The iconic designer's style is a fashion surefire that never disappoints.
The eternal classics in men's closet are also represented by Jon Hamm, the actor who plays Don Draper, the charismatic businessman from the series Mad Men . It seems that Hamm, even after he's finished playing in the hit series, enjoys looking into Don's closet. The actor says he has been "oblivious" to fashion for most of his life, but that changed when he started dressing for his role in Mad Men. "I started buying clothes that actually fit me," he says in an interview. Sophisticated style is seen in red carpet photos – Hamm is most likely to choose suits with a label from the aforementioned Tom Ford. In paparazzi frames of the actor's daily life, he opts for fitted denim shirts, knitted polos in earth tones and loose-fitting but always quality blazers.
Stylish darkness – what is the appeal of black?
We also value the style of men who like to exude a mysterious darkness. The king of this style is definitely Keanu Reeves, an actor known for such productions as John Wick and The Matrix. The 58-year-old seems to defy the passage of time; he always looks great, even when he's out shopping or traveling on his motorcycle. The Canadian actor has a taste for black: black blazers (superimposed over vintage sweatshirts), black motorcycle rampons, black suits for movie premieres. Not long ago, he appeared in a Saint Laurent men's collection campaign, which only cemented his status as a fashion icon. Ethan Hawke, star of indie films (like "Before Sunrise"), is also most comfortable in dark black – especially that from Prada, a brand for which he has been an international ambassador for years.
Fashion designers – and style icons – also have a taste for dark aesthetics. Rick Owens, known for his raven-black hair, muscularity and fidelity to his uniform, consisting of boxer shorts, leather shorts and sneakers (all with the label of his famous brand), is a prime example. Meanwhile, Yohji Yamamoto, the 79-year-old king of the Japanese avant-garde, treats black as the color of poetry. On a daily basis in Paris, one can find the fashion genius dressed in his trademark felt hat and loosely tailored suit. Black is not just a color, it's a lifestyle!
Inspiring eccentricity – what does it look like for stylish men to play with fashion?
In a man's closet we appreciate panache and a touch of eccentricity. After all, fashion is fun. Jared Leto, the 51-year-old musician (band 30 Seconds To Mars) and actor ("Suicide Legion," "House of Gucci," "American Psycho") who has been the face of Gucci for years, knows this best. The rocker likes to go wild in terms of his unique image. The Louisiana-born artist at the premiere of the film "Morbius" , which took place in March 2022, wore an eye-catching look designed by Alessandro Michele, the now former creative director of the house of Gucci. It is about a lavender velvet suit with a deep neckline and matching bell-bottom pants. Another fantastic fashion statement was his outfit for the 2019 LACMA Art+Film Gala. He looked exceptionally good in an all-white suit from Gucci. The powder jacket was finished with a beautiful paradise flower pinned on the lapel and was styled with a white cowboy hat. Perhaps one of Jared's most provocative looks is his memorable outfit for the Met Gala years ago, celebrating the theme of "Camp: Notes on Fashion." The actor has mastered the camp style to perfection. The red satin gown, designed by Michele, was finished with the craziest accessory of the night – a hyper-realistic copy of Leto's head. The styling became instantly viral:).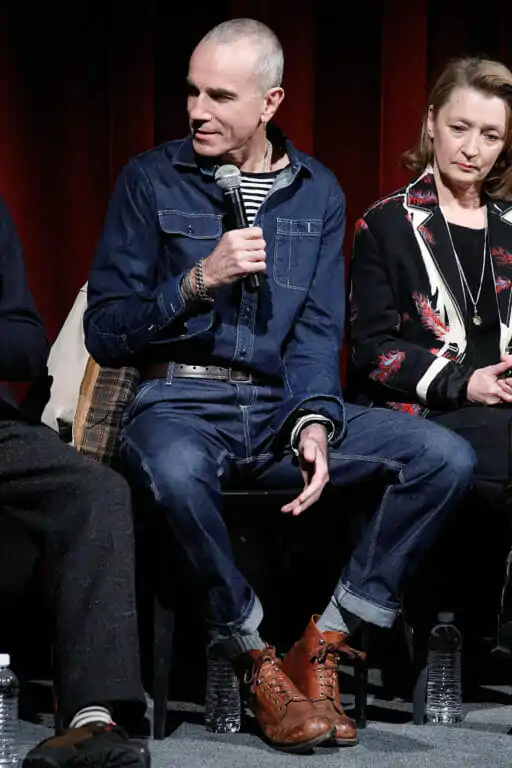 The world of fashion is no stranger to Daniel Day-Lewis. The actor has been blessed with several stylish roles – most notably Reynolds Woodcock, an impeccable designer tailor whose clothes captivate throughout "Phantom Thread." But the sight of the three-time Oscar winner wearing a Carhartt work jacket and pants, a plaid flannel shirt and a small rolled-up cap set the fashion world ablaze. Emma Specter, a Vogue journalist, compared his style to "a typical New York literature student" as well as "your favorite bartender or blogger from Bushwick who goes out to the park for a quick afternoon flat white." The Wall Street Journal named Daniel the best-dressed man of 2018. Relatively recently, the 66-year-old was wearing a blue and brown striped tracksuit, dark glasses and black running sneakers, while a trucker cap of the Japanese brand Yoshimura rested on his chin-length gray curls. The next day he swapped the youthful look for a black zippered hoodie, blue striped T-shirt and buttery yellow pants from Boston-based brand One Gig. The post-swag style focuses on street-style, usually expensive clothing worn with nonchalant sloppiness and confidence. Day-Lewis has mastered this style to perfection. Who would have thought that the actor would become a fashion icon of the new generation?
Also read: "Sex in the City": will it always be relevant?
Bad boy forever – rebellious style in a man's closet.
Some men feel eternally young – and that's a good thing! Heartbreakers over 50 are betting on the style of the immortal bad boy. Jeffrey Dean Morgan, currently starring in the TV series "The Walking Dead" as Negan, the cruel villain, doesn't seem to be going out of character in terms of his personal style. The charismatic actor with a devilish smile wears leather jackets, ragged jeans and motorcycle boots on a daily basis. His combed-back gray hair and seemingly "neglected" beard are his trademarks.
The strictly minimalist style of 56-year-old actor Mads Mikkelsen, who has been dubbed the "king of DILFs" by the TikTok community, is clear proof that one of the best ways to closet a middle-aged man is to adopt a uniform consisting of casual, bad-boy everyday wear and classic tailoring for evening. The key to Mikkelsen's successful styling is his mastery of clean lines and penchant for a muted color palette, consisting mainly of dark blue, gray, white and khaki, which in the spirit of "quiet luxury" suggest a sense of quality and luxury. Mads' fashion incarnations, however, are always absolutely casual in their overtones: they never give the impression that he's trying too hard, which is the best way to do men's style. It is worth noting that our well-liked villain from "Casino Roysale" chooses pants that elongate the figure and are neither too tight nor too narrow.
Vincent Cassel invariably disarms with his maney gray hair and beard, which often changes form. Cassel is French and dresses very much in French. When he appears in the front rows at fashion shows – which happens often – he himself admits that he is interested in the industry high fashion – he's usually wearing sporty sneakers, a great fit and a loose linen jacket, most likely from Jacquemus. Cassel also recently appeared in Prada's summer ad campaign, where he poses in a black turtleneck and timeless suit. Miuccia Prada has a keen eye for choosing male ambassadors for her brand, who are always characterized by a nonchalant manner and high artistry in their work.
Tasteful casual – who are we inspired by when it comes to everyday style?
We also follow the actors' style for inspiration for everyday style. Fashion Courier named Brad Pitt the most stylish man of 2022 for his new image and fresh approach to fashion. Today's appearance by the prominent actor exudes casualness and also redefines the concept of masculinity. The press tour of the action film "Bullet Train" proved to be the perfect opportunity to introduce the actor's groundbreaking style to the world. In Berlin, Brad Pitt surprised the audience with a linen combo of a powder-pink shirt, a loose brown jacket and an airy brown skirt. For his already iconic look, Pitt matched his combat calf leather boots, showing glimpses of his mysterious calf tattoos. Asked by Variety about his intriguing appearance, Brad Pitt replied with a laugh: "we're all going to die anyway, so let's make a mess of it." We like this approach!
Murray Bartlett, known for his sensational role as the receptionist in the first season of "White Lotus" and his moving character in the production of "The Last of Us," opts for shirts in strong patterns in the retro spirit in the summer, and chooses hand-tied sweaters in bold colors in the winter. The actor has recently become the face of Spanish fashion house Loewe. In the latest ad campaign, he poses in a classic white t-shirt and loose jeans. Ben Affleck is also a paragon of masculine, everyday style. One of Hollywood's most famous men keeps his cool when it comes to clothing. He chooses elegant shirts with comfortable sneakers, and likes shades of beige and brown. It represents a 50-year-old who has found his style, is comfortable with it and wears it with confidence. Even while shopping at… Dunkin' Doughnuts.
Fashionable at any age – about an unexpected icon of men's fashion.
At the recent London Fashion Week, the unexpected presence of Sir Ian McKellen caused a real sensation. The revered British 84-year-old actor (known for his roles in "Lord of the Rings" and "X-Men") made an appearance at the S.S. Daley show, one of Harry Styles' favorite British brands. On the catwalk, McKellen delivered a dramatic reading of the poem "The Arrival of Arthur" by Alfred Lord Tennyson. During the recitation, guests of the fashion show were able to admire his nautical-inspired outfit, including a beret, silk scarf and flowing navy blue pants. What caught the eye, however, was the naked man printed on the back of his coat. The show's press-notes explained that the brand's creator was inspired by the idea of "portraying the love of life on a precious garment, as a keepsake." The actor's passionate performance made Anna Wintour, Vogue's editor-in-chief, smile in the front row – and that's the greatest compliment from a fashion oracle. Will Sir Ian McKellen surprise us yet with another fashion incarnation? We hope so!
At GentleWoman's editorial team, we think there is something endearing about the style of men over 50. They know who they are, what they want, and what actually suits them. We hope our list of best-dressed men will inspire you in your search for your own style, the style of a true GentleMan!
Editorial recommends: The new era of Burberry
UDOSTĘPNIJ