The actress and singer of the younger generation, whose Instagram account is followed by more than a million fans. For her, fashion is a way to appear in the limelight. The style, if we can consider the creations she wears as such, is more an expression of her personality than of current fashion trends. Success has sidelined her education. The 23-year-old, who is reaping the full benefits of her five minutes of fame. Julia Wieniawa's term Gentle woman must be earned.
Table of Contents:
Who is Julia Wieniawa?
23-year-old actress, singer, businesswoman. She gained popularity for her role in the TV show "Family.pl." This was her doorway into show business. He does not think that education is useful in life. According to Wieniawa, college is not a career determinant. He cites actors who have become famous in Polish cinema despite their lack of ovaries. "For example, Daniel Olbrychski, who without school made an acting career and is a walking legend. There are also many foreign actors who have done so. It's not a necessity, but it's worth having," she admitted. For now, she can boast of her high school diploma, although as she says: "I've been dreaming of studying acting forever. When I was a child, I knew I would go to the Theater Academy. But I got a little sidetracked because of the work that came to me."
"Today, an influencer is called anyone."
Julia Wieniawa doesn't like being referred to as an influencer. "I don't want to be called an influencer, because I think the word, at least in my mind, is pejoratively characterized. Today, an influencer is called anyone who has an account on Instagram, and I don't like to be lumped together with people who are popular because they appeared in a reality show, for example." The star requires a separate glow.
Just as she doesn't consider herself an influencer, she doesn't identify with the world of celebrity. However, this does not prevent her from clowning around on the walls. Not on everyone, that's a fact. After all, she doesn't want to be lumped together. He carefully chooses the events at which he will be, if not the only one, then one of the few stars. Mainly on those related to fashion. After all, knowledge of trends is the sine qua non of success in show business. In his words: "I'm at a celebrity event, but one related to fashion. I don't go to events for the sake of going. Rather, for events I care about."
Read also: Top 10 books to read in autumn
5 minutes of fame
One of the biggest stars of the younger generation apparently finds it difficult to accept criticism of herself. So much so that she had to use the support of a specialist. "A few weeks ago I started my first therapy with a psychologist, with a psychotherapist. And so I think that I was quite late to refocus, because in my profession it is a necessity. I think that going to a psychotherapist or psychologist in these days dominated by the Internet is simply necessary," she confessed. Nothing surprising about that. After all, Johny Depp takes Xanax regularly. Apart from the small fact of his acting achievements to date.
What may come as a surprise, however, is the reference to the Internet as a stress factor. Wieniawa is followed on Instagram by more than 1.6 million Internet users and she is in constant contact with them. She makes sure to maintain this interest. She posts regular photos and presents herself to her fans in various editions. Often controversial or provocative. Attracting attention. For the Elle.co.uk 10th anniversary party, she wore a creation that revealed much of her alluring body. According to the principle, let them speak ill, as long as they speak. As Paulina Koziejowska stated ; "Seriously?!~Julia thought that after the creation she presented no one would write about this dress ?!".
The young star is enjoying her five minutes of fame. Fame that translates into her material status. Luxury apartment, car, foreign travel.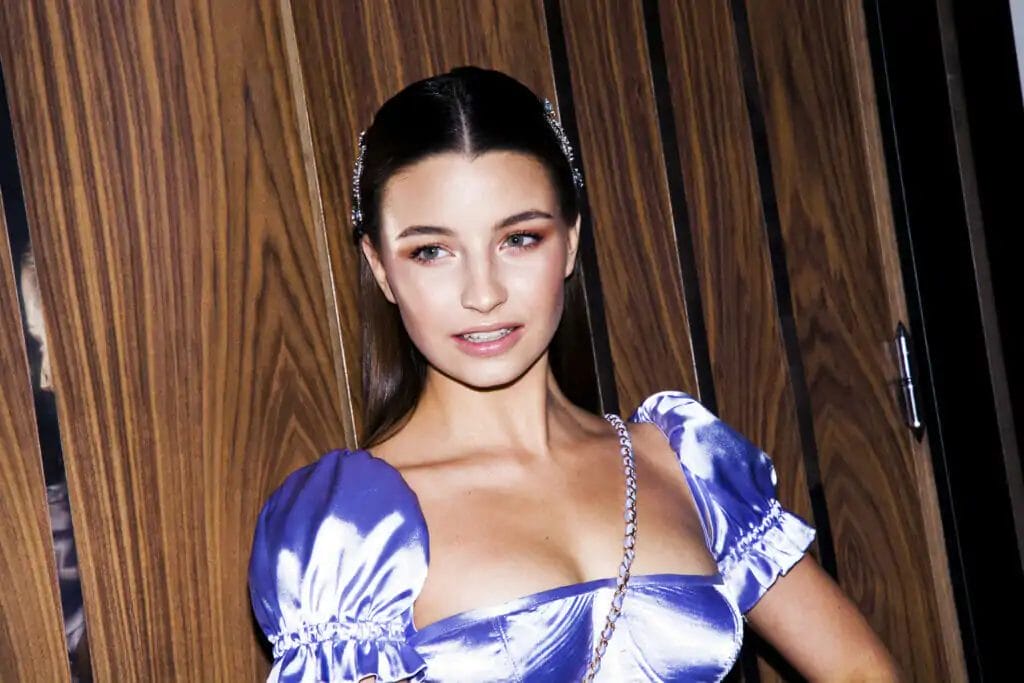 5 minutes of fame
It is difficult to describe her as a fashion icon. Her style is more the art of selecting creations designed to direct the spotlight of the jupiter lights on her. If only for one evening. As she herself admitted: "I don't have a key, I go with the flow, I dress what I like and what I happen to feel. Sometimes I'm driven by fashion, sometimes by humor, but generally for fashion it's about showing your personality." Nothing to add, nothing to take away. Ah… Audrey Hepburn.
Her styling is as famous as her love stories. About her chosen ones, unfortunately for them transient, it is not worth to write about, because they are not characters a la Clarke Gable.
Julia Wieniawa does not shy away from undressed scenes
The 23-year-old with a high school diploma does not shy away from undressed scenes. After all, a beautiful body is an asset that some actresses take advantage of. She took part in a tennis photo shoot for Zalando (for the uninitiated, it's a kind of online store for clothing of various brands). The session resonated mainly with her fans because of the part of her bare breast that Julia Wieniawa chose to show. This does not mean that it is devoid of pudeur. He ranks the bed scenes among the most difficult in his career. "These were my most difficult scenes. They themselves were not easy, because I had to be almost half-naked in front of the whole team," she revealed.
Summary
Her career lies at her feet. How it turns out next largely depends on the young actress. Success is a string of achievements noted by critics. It consists of hard work and improvement of acting skills. Instagram provides this only for a short time. The term gentle woman has yet to be earned.
UDOSTĘPNIJ