Hamptons-style interior… Imagine that you are walking on a beautiful sandy beach, in front of you an immensity of space, the sea throws pieces of bleached wood on the shore, it is quiet, peaceful. We stand on a stone by the shore and look at the shades of white and blue of the rippling water…. If such a landscape appeals to our imagination as a place of blissful relaxation, let's bring its colors and textures to life by furnishing a hamptons-style interior.
A long time ago in the Hamptons....
Not far from New York City, Long Island is home to the Hamptons resorts, where wealthy New Yorkers relax in nature. The interiors of the residences there have become an inspiration for those who appreciate in interiors space, light, the colors of the sea and sand, and a touch of unforced luxury.
This is also where the name comes from. Although it was once associated only with the northeast coast, today it reigns supreme around the world.
Hamptons-style interiors combine opulence and naturalness. Bright colors dominate: whites, beiges and blues. This makes the space visually much larger, while not losing its coziness. It is a place of relaxation and rest. There are no overwhelming colors and heavy furniture. Instead, an unforced lightness appears.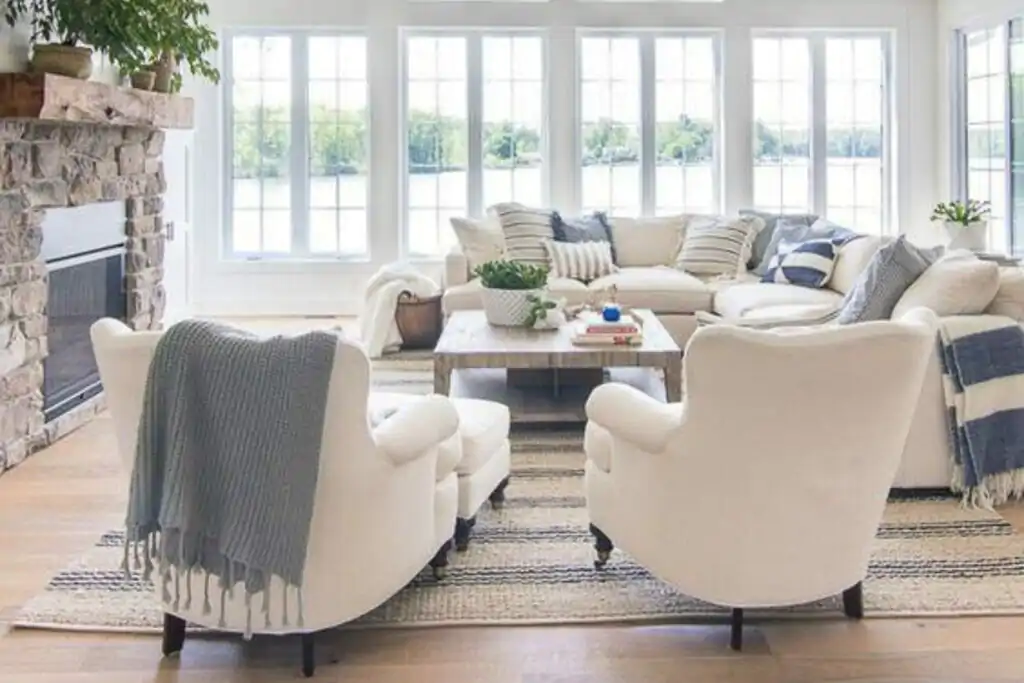 Hamptons style designs are characterized by light, bleached colors (whites, beiges, blues), natural materials (wood, stone, rattan) and traditional forms of furniture (antiques, upholstered, stylized furniture). Convenience and space are key. Soft sofas, lots of pillows, and windows as large as possible, often with white muntins, are the hallmarks of this style.
The paint used to paint the walls is matte. This makes the interior appear even more natural. With the right accessories, it is supposed to associate us with the beach: warm sand and the sound of the ocean. It also happens that the accessories are also in much darker colors, such as navy blue. However, it is important that it is not the dominant color, as it can overwhelm a bright interior.
What distinguishes a hamptons-style interior is the quality of the materials. The floor is often made of wooden parquet or wooden planks. No panels are used, which instead of elegance, could evoke kitsch.
When decorating an apartment, accessories play an extremely important role. Properly selected will make it unique. They complement the style we have chosen.
The hamptons-style interior is distinguished by the use of natural raw materials. That's why old antique furniture, wicker baskets and lampshades, and rugs made of real wool are used to arrange them. The most recognizable sign of this style are the pillows. They have different sizes and designs. It is important that there are a lot of them. It is supposed to be soft and comfortable.
It is also worth referring directly to the coastal climate. Blue stripes on curtains, anchors, lighthouses or tree trunks cast ashore are just some of the ideas you can use when decorating a hamptons-style interior.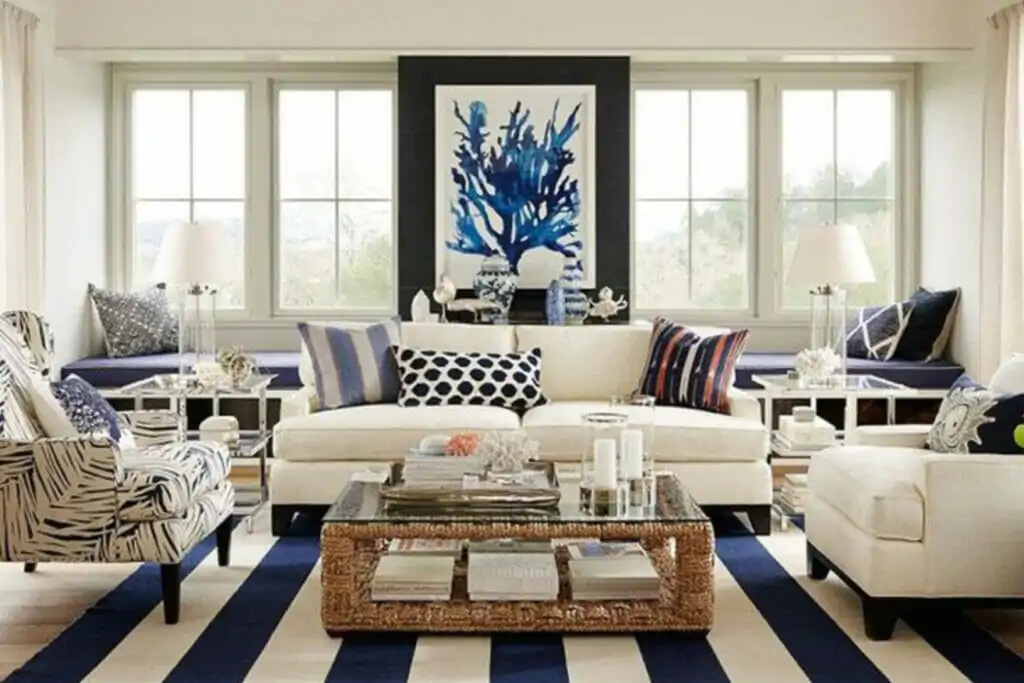 UDOSTĘPNIJ